Kevin, you don't do morally bankrupt. But me?
I swim around in it, like Scrooge McDuck in a pile of coins!

Biography
Rodney Ruxin is married to Sofia Ruxin. They have a son, Geoffrey Ruxin, whom Sophia and Ruxin cannot decide upon which of their religions to raise him as. They finally decide to expose "Baby Geoffrey" (as he is commonly called in the show) to both religions equally and let him decide when he is older. The Ruxins have a dog named Kale, whom for a short time had a "crush" on Jenny. Taco remarks that Kevin and Kale are 'Eskimo Brothers' through Jenny. Ruxin's unnamed mother, never makes an appearance in the show, though his father, Rupert Ruxin, played by Jeff Goldblum, does in a few episodes. Rupert is often telling Ruxin's mother that he is "away on business" when he is really just visting Chicago. In one episode, he is caught trying to use Ruxin's house as a "house-hotel". In an attempt to avoid a visit from his parents he tells them he will be out of town. Ruxin takes fantasy football like his job and will change his lineup many times. He has won the Sacko more than anyone.
Quotes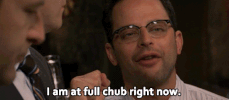 "If my kid is going to hate Jews, it's because he's self-loathing, not antisemitic."
(To a group of school kids) "All your teachers smoke pot."
(To Kevin & Jenny) "You fed us goddamn guinea pig like some Peruvian street urchin!"
Personality & Traits
Skills & Abilities
Relationships
Married to Sofia Ruxin
Family
Friends & Enemies
Sexual
Physical Appearance
Trivia
v - e - d
Single Appearance
• ALL •
• Gumpa Duke • Gumma Eve • Wesley • Dr. Henry Rocha • Crazy Tiffany •
NFL & Celebrity Appearances
• ALL •
• Chad Johnson (Ochocinco) • Jay Cutler • Kristin Cavallari • Marshawn Lynch • Tommy Condon • Ryan Shazier • Blair Walsh • J J Watt • Jim McMahon • Antonio Gates • Adrian Peterson • Dieon Sanders • Vernon Davis • Greg Jennings • Darren Sproles • Randall Cobb • Golden Tate • Ryan Fitzpatrick • Robert Griffin III • Matthew Berry • Brent Grimes • Jordan Cameron • Cameron Jordan • Mark Cuban • Matt Forte • Josh Cribbs • Adam Caplan • Maurice Jones-Drew • Matt Kalil • Tyrann Mathieu • Terry Bradshaw • Terrell Suggs • Sidney Rice • Ryan Kalil • Calais Campbell • Chad Johnson (Ochocinco) • Jerry Jones • Tom Condon • Doug Hendrickson • Carlos Hyde • Jason Witten • Gerald McCoy • Mike Evans • Taylor Lewan • Mike Pereira • NaVorro Bowman • Felix Jones • Rich Eisen • Snoop Dogg •
Unseen / Mention Only
• ALL •
• Vince • Ruxin's Mother • Jenny's Mother • Dokes •
Community content is available under
CC-BY-SA
unless otherwise noted.