Season Four of The League first aired on FX, on October 11, 2012. It was written by Jeff Schaffer and Jackie Marcus Schaffer, and directed by Jeff Schafer, with additional credits.
The fourth season of The League lasted for thirteen episodes, and the season finale was aired on December 20, 2012.
Characters
Main Characters
Recurring / Minor Characters
Episodes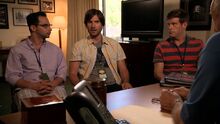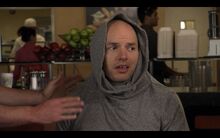 Kevin and Jenny try to break her one-day sex record while attending birthday parties. Pete gets frozen out while paintballing with Taco and Rafi. Ruxin is uneasy with a white sushi chef called Wesley (played by
Timothy Olyphant
).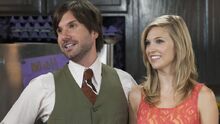 Jenny must deal with her annoying mother-in-law,
Martha MacArthur
(played by Julia Duffy). Taco realizes he's in a relationship. Ruxin has
Rafi
pose as him during
Baby Geoffrey's
swim lesson.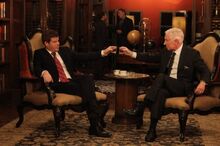 Kevin meets Buffalo Bills quarterback
Ryan Fitzpatrick
at a charity event; the guys try to find out who is the smartest of the group.
A trip to a Bears game goes from bad to worse when Andre messes up the tailgate and the guys face off with their high-school rivals.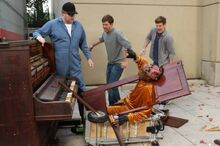 Ruxin fears his wife,
Sofia
is planning to leave him. Pete attempts to avoid a "douchey" acquaintance. Jenny stabs Kevin in the back on a trade with Ruxin. Taco moves into a dead psychologist's apartment and takes over his practice. The gang learns Andre's innermost secrets.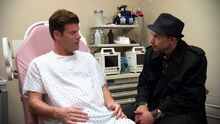 Andre and Kevin disagree over the legitimacy of a trade made right after Kevin's colonoscopy. Pete's
grandfather
moves into a retirement home and uses the freedom to attempt adultery.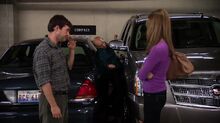 Pete runs into his old high-school crush,
Gina Gibiatti
, (played by
Brooklyn Decker
) who humiliated him, and Andre helps him woo her. Ellie's boyfriend blackmails Kevin. Taco offers Ruxin a meal to help his low sperm count.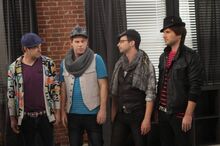 Andre dates his interior decorator,
Trixie Von Stein
, (played by
Jayma Mays
) and
Deion Sanders
thinks about buying Andre's house. Kevin gets a concussion trying to beat Jenny to getting Michael Bush off waivers. Andre takes the guys out fashion-shopping. Pete continues to date his high-school crush.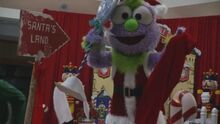 Rupert Ruxin
(played by
Jeff Goldblum
) has an offer for his son. Taco tries to convince the mall manager (played by
Bob Odenkirk
) that the mall should have the frightful German Santa-counterpart named Krampus in addition to a Santa. Jenny tries to appease Shiva.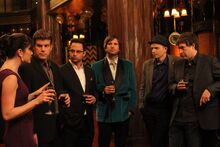 Ruxin tries to survive
Scrote Season
. Pete crosses paths with
Adrian Peterson
. Taco throws a New Year's party where he plans to unveil his newest invention, 'The Brown Note'.
Production Notes